Day 1
Discover the ancient Birdman village and much more in the central and south western parts of Easter Island.
Ahu Akivi: The seven mysterious moai statues of Ahu Akivi are the only ones that are facing the ocean. They are said to represent the great navigators once sent my legendary king Hotu Matu'a to find this land a thousand years ago.
Puna Pau: After centuries of refining their skills, the Rapa Nui statue builders had reached an incredible talent. A new invention was then invented - a huge red topknot, placed on top of the statues. This quarry is where the material for these was extracted from.
Tahai: This ancient village is the remnant of a tribe of true greatness. Considering the distance and the tough terrain between this place and the statue quarry, the seven restored statues on the three seperate platforms of Tahai stand as a reminder of the hard-working people that once inhabitated these areas.
LUNCH AND SHOW: Enjoy lunch with an unbelievably exclusive view, right in front of the mysterious moai statues of Tahai. Experience the live part of the Rapa Nui culture through a live show of traditional dance and music.
Vinapu: Area with the most perfectly fitted rock wall, engineered with such skill that many draw conclusions on contact with the Inca Empire.
Rano Kau: The crater of this volcano is one of the most beautiful natural landscapes of Rapa Nui. The crater lake served as an important source of drinking water in ancient times.
Orongo: Through the lethal birdman competitions, a leader was elected in this ceremonial village to rule over the other tribes for the coming 12 months. The strong winds of the ridge of volcano Rano Kau forced the tribesmen to invent a new kind of house made out of rocks where the tribes would stay during the ceremonies.
Approximate duration: 7 hours.
---
Day 2
The height of the impressive megalithic culture is in focus this day.
Rano Raraku: The volcano that was converted into a mass production factory of gigantic megaliths where virtually all moais were carved. One day the workers stopped, and the hundreds of statues that were left behind haven't moved since.
Ahu Tongariki: The biggest and most impressive monument of 15 huge moai statues standing in a row, just around the corner of the volcanic quarry where they come from.
Anakena: The historical beach where king Hotu Matu'a, the first Rapa Nui king, disembarked a thousand years ago when this island was settled. This tropical beach, decorated with palm trees and moai statues, offers a relaxing atmosphere.
Approximate duration: 4.5 hours.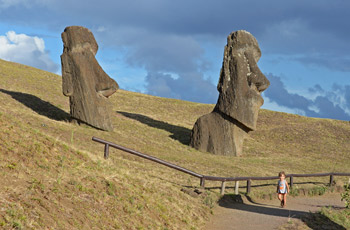 Walk among giants in the great moai statue factory Rano Raraku, where hundreds of megaliths were abandoned.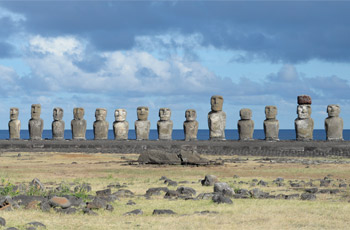 The moai statues of Ahu Tongariki make up the largest monument of Easter Island. It was restored by the Japanese in the 1990's.