Easter Island facts and information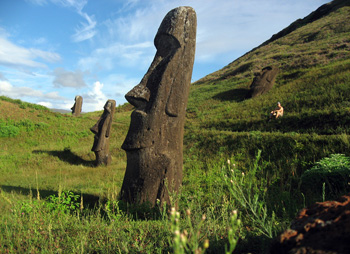 Moai statues in the volcano Rano Raraku.
Easter Island, also known as Rapa Nui, is a tiny island known for its huge moai statues scattered all over the island.
The world is fascinated by the creation of these statues not only for the impressive size and quantity of them, but also for the circumstances under which they were built. This small island had very limited resources; not much drinking water, no cattle and no metal. The statues were transported to their final location several kilometers across hilly terrain - all of this being accomplished with the highest leader being a tribal chieftain.
Location
Rapa Nui is located in the Pacific Ocean, on latitude -27.15 and longitude -109.4, 3600 km west of Chile in South America (see in Google Maps). Flying from Chile's capital Santiago, which is the closest flight connection, takes around 5 hours.
Culture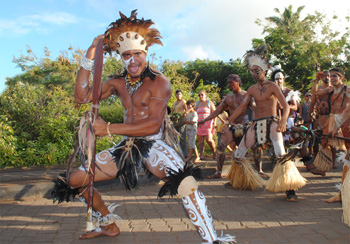 Native dancers at the parade during Tapati Rapa Nui festival
The Rapa Nui people are polynesians, such as Hawaiians, Tahitians and the Maori of New Zealand. The native languages of these islands are very similar.
Music, dance and art has always been a central part of Rapa Nui culture. The island is today part of Chile, and strong South American influences threaten the existence of the fragile Rapa Nui culture which a mere 3000 people are part of.
As tourism became a more common part of the Easter Island society since the 1990's and people travel from all over the world to see this unique culture, there has been an increased pride in the cultural Rapa Nui identity. Today, most newborns that are Rapa Nui are given Rapa Nui names, and parents try to speak the native language to their children as much as possible. During the 1980's and before, most babies were given Spanish names, and parents often did an effort to teach their children Spanish, even if this was their weaker language.
Climate
The Rapa Nui climate is classed as subtropical. It is often windy, especially at volcano summits such as where Orongo is located.
Being located quite a bit below the equator, Rapa Nui isn't as agonizingly hot as Tahiti sometimes can be. Most find the Rapa Nui climate moderate and quite pleasant.
During summer (Dec - Feb), day temperature is around 25°C, and winter (Jun - Aug) around 19°C. At night it gets quite cold, so unless it's summer, you might want to be prepared with a pair of long trousers if you're staying outside.
Jan
Feb
Mar
Apr
May
Jun
Jul
Aug
Sep
Oct
Nov
Dec
Max day temp. °C (°F)
27
(80.6)
27
(80.6)
27
(80.6)
25
(77)
23
(73.4)
22
(71.6)
21
(69.8)
21
(69.8)
21
(69.8)
22
(71.6)
23
(73.4)
25
(77)
Min day temp. °C (°F)
21
(69.8)
21
(69.8)
21
(69.8)
20
(68)
18
(64.4)
17
(62.6)
16
(60.8)
16
(60.8)
16
(60.8)
17
(62.6)
18
(64.4)
19
(66.2)
Table explanation: during February, one could expect day temperatures between 27 and 21°C, and in October between 22 and 17°C.
Rain falls year-round (around 80 mm), though most between April and June (around 110 mm). This means that even though rain is less common during summer (Dec - Feb), it is still a good idea to bring a rain coat - especially if you're staying at Easter Island only for a few days. In case these days would be rainy, you would probably want to be able to be outside and still stay somewhat dry!
Jan
Feb
Mar
Apr
May
Jun
Jul
Aug
Sep
Oct
Nov
Dec
Rainfall mm (in.)
90
(3.6)
80
(3.4)
80
(3.4)
110
(4.6)
120
(5)
100
(4)
90
(3.7)
80
(3.4)
80
(3.3)
70
(2.9)
80
(3.2)
90
(3.6)
Modern society at Easter Island
Rapa Nui locals today live in houses with windows and doors. The town of Hanga Roa has electricity generated by diesel engines, though it cuts around once a week for a couple of hours because of failure or maintenance. Internet access is limited and slow and is only available in the town center.
Official languages are Spanish and Rapa Nui - the native language of the island, similar to Hawaiian and Tahitian.
Fresh fruit and vegetables are flewn in by airplane. Storable food, construction material etc is shipped in on a ship approximately once a month. Sometimes the ship is delayed, causing the shops to be short on wares.
Tourism
After NASA extended the airport landing strech in 1987 for possible space shuttle emergency landings, tourism has constantly increased, and continues to do so by around 20% per year. Tourism is the main source of income for the islanders. In 2012, Rapa Nui received 70 000 visitors. The tourism services of the island are well prepared to receive and take good care of outside visitors.
Population increase
The biggest problem as well as the biggest discussion is the rapid increase of the population the latest years. The island has gone from having only a few cars in the 70's to light traffic jams by the market in the mornings. This is due to borders being entirely open to the 16 million inhabitants of Chile. Rapa Nui is seen as an exclusive place to live, and the economic situation is considerably better than in Chile, which is why many Chileans choose to move to Rapa Nui. More than half of the inhabitants of Rapa Nui are today Chileans.
The general opinion among the Rapa Nui people is that Chilean immigration should be controlled, in the same way as it is from all other countries of the world. This is a complicated matter since Rapa Nui is part of Chile and it would mean that Chileans would not have free access to a part of their own country. Though, Rapa Nui is a small and fragile environment, and it is probably only a matter of time before special reasons will be required also of Chileans in order to move to Rapa Nui.
Below are census counts in modern times, and not the population estimations of the earlier European and American visitors.
Year
Census count
Native Rapa Nui
1877
111
100%
1982
1936
70%
1992
2762
2002
3791
60%
2012
5167
Independance from Chile
A small group called Rapa Nui parlament wish for independence from Chile. Opinions of this group have been heard all around the globe, even though they are only a few people. The rest of the Rapa Nui population doesn't share this opinion. What's more sought for is autonomy, meaning that Rapa Nui would have right to for example create laws of their own.
Rapa Nui is dependent on Chile for telephone communication, internet, maintenance of roads, schools, currencies and everything else that defines a modern life. Without Chile, the people of Rapa Nui would virtually have to go back to living in caves, which is why this island never will be independant from Chile.
Economy
Official currency is Chilean pesos (CLP), though US dollars are also accepted.
Because of the remoteness (everything has to be flied or shipped in) and tourism, prices are quite high. A meal and a beverage at a restaurant may cost around 10 000 CLP - 30 000 CLP and a night at a hotel may cost 80 000 CLP - 200 000 CLP.
Opening hours at offices etc
Airport
Opens: 2 hours before an airplane arrives
Closes: When the airplane leaves
CONAF
Monday - Saturday
09:00 - 15:00
Correo de Chile (post office)
Monday - Friday
09:00 - 13:00, 15:00 - 18:00
Saturday
10:00 - 13:00
Gasoline station
All week
07:30 - 22:00
Museum
Tuesday - Friday
09:30 - 17:30
Saturday - Sunday
09:30 - 12:30
Omotohi (internet café)
Monday - Friday
08:30 - 22:00
Saturday - Sunday
09:30 - 22:00
Rano Raraku & Orongo
All week
09:00 - 18:00
Music
Music traditions
Music has always been a big part of Rapa Nui culture. In all rituals and ceremonies they would sing. Just like in choirs of today in many countries they had four voices; re'o a ruŋa (upper voice), re'o vaeŋa (middle voice), re'o vaeŋa o raro (middle bottom voice), re'o a raro (bottom voice).
The only instruments invented by this culture are basic percussion instruments. The most common one was the mā'ea poro - two basalt rocks that were pounded together to keep the rythm. Rocks that have been polished and rounded by rolling around in the ocean are selected for this, and when they are pounded together they cause a short, sharp sound.
After horses had been introduced to the island, the instrument kaua'e (jaw) became a popular instrument, which is the bones and teeth of a horse jaw. Grabbing one cheek of the jaw and hitting the other would cause the teeth to rattle, which was also used to keep rythm.
Each fiest and celebration would have a group of people in charge of the music. They would start practicing long before the fiest, and for the purpose of practicing, big houses would be built called hare koro (reunion house).
For the celebration, a simple percussion instrument would be prepared by a man called va'e (foot). A big hole is dug in the ground. In the bottom of this hole, a small, circular hole is dug and a human skull is placed in this smaller hole. On top of the small hole with the skull, a keho (basalt slab - a large, flat stone) is placed. The va'e will kick the keho with one of his feet to produce a sound similar to that of a bass drum.
Rapa Nui music today
Most Rapa Nui people are artists in some way. It may be in carving, handicrafts, drawing or - as often is the case - in music. For a small group of around only 3000 people, surprisingly many have recorded CDs and perform on a regular basis. One of them is Alicia Makohe Ika of Easter Island Travel.
Rapa Nui National Park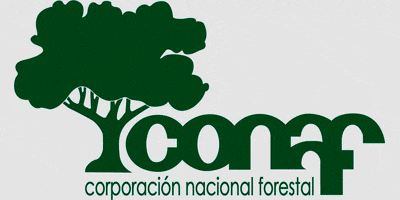 Logo of CONAF, maintaining Chile's national parks.
Many visitors to Easter Island hear about a Rapa Nui national park and expect to see something similar to other reserves they have seen, only this one has moais. Truth is, borders to this national park are often not visible, and even the locals don't know where the national park areas begin or end. The national park is simply the areas that don't have an owner. These areas make out around 43% of Easter Island. Just as the rest of all Chilean national parks, this one is run by the national organization CONAF. They are in charge of park rangers, signs, rules, maintenance etc.
National park ticket
For entering two of the main attractions of Rapa Nui (Rano Raraku and Orongo), visitors are required to show a park ticket. These are bought at the airport or at the CONAF office. The ticket costs 60 USD per person, except for Chilean citizens, for whom the cost is only 20 USD. Once bought, the ticket is valid for five days. For visiting Rano Raraku and Orongo after that, you would have to buy a new ticket. Only 1 visit to each of the sites is permitted per ticket.
Filming movies, documentaries and shows at Easter Island
Many documentaries and show episodes have been filmed at Easter Island. For filming within the national park (basically anywhere where there are moai statues) you need a permission from CONAF. The cost of this permission depends on how many days you will be filming and how many sites will be covered. When filming in the national park, a CONAF park ranger will have to accompany you at all times.
No permission is needed for filming in private properties, in town and anywhere that's not national park.
To request a filming permission from CONAF, they will need a detailed schedule of which sites you'll be filming, the exact date and time you'll go to the locations and what scenes will be shot there.