Travel guide
Traveling to a remote and unique place such as Easter Island you might want to be well prepared to make the most out of your stay. Reading through this Easter Island travel guide will hopefully answer the questions that you may have. If you afterwards still have things you wonder about, don't hesitate to contact us, and we'll surely be able to help you out.
Recommended length of stay
Many hear that two full days at Easter Island is sufficient to see the main sites. While this may be true, many still appreciate at least 1 extra day after the tours for any activity of their choice, making the recommended shortest stay 5 days, 4 nights. After two days of touring you will have become quite well familiarized with the island, and will surely not have any problem filling the spare time with any activity of your choice.
Those who enjoy trying out different activities or just relaxing in a tranquil ambient might want to stay at least a week.
Flights
LAN Chile is the only airline that flies to Easter Island. This company is part of Oneworld Alliance, so if you have any accumulated points in this system, they may be used to reach Easter Island. Possible entries are from Santiago, Chile (daily flights) or Papeete, Tahiti (once a week).
Visas and entry to Chile
Easter Island is part of Chile. Citizens of USA, European Union, Canada and Australia do not need a visa to enter Chile. All these citizens need is a passport and a flight ticket showing that you will leave the country within 90 days. Visitors from other countries must apply for a visa at their nearest Chilean consulate.
Chile charges an entry fee to citizens from Australia (117 USD) and Mexico (23 USD). This fee is only charged if you enter Chile through the international airport at Santiago. This should be considered if you for example have the possibility to enter Easter Island from Papeete (Tahiti), which would mean that you would not have to pay this fee.
You may pay with cash or credit card. After payment you will be given a passport stamp as proof of payment. The stamp is valid until the passport expires, except for Australians, for whom the stamp is only good for 90 days.
National park ticket
To enter two of the main attractions (Rano Raraku and Orongo) you will need a national park ticket. The ticket costs 60 USD/30 000 CLP to foreigners and 20 USD/10 000 CLP to Chileans. Buy it when entering the airport after having arrived or (less conveniently) at the park ranger office. Only cash is accepted. The ticket is valid for one entry to each of the two affected sites. Though, if the park ranger has a good day, he may let you in even if you have entered once. The ticket is not required for any other sites than these two.
Safety and crimes
Violent crimes towards tourists at Easter Island is basically unheard of. Even at night you'll be safe walking alone.
Something that does occur is theft at your hotel room. Don't leave money and valuables for people to see when you leave your room and make sure you lock the door. At the better accomodations you may ask for a safe box if there isn't one already in your room.
Climate
The winds can be quite strong during any period of the year. During summer (November - March) temperatures don't often reach more than 30°C, though it may sometimes feel like more because of humidity. The sun during this period is strong, so do not forget to put on sunblock (can be bought at the pharmacy Cruz Verde in the town center).
It does rain occasionally during summer, but especially during winter (May - August) is it important to bring a light rain coat for any spontaneous showers. The day temperature may still sometimes peak to a bit below 30° C, but the temperature drops quickly on cloudy days. Especially at nights it might get cold, with temperatures dropping as low as 10° C. At winter it'll often be too cold to lay at the beach, but the water will still be warm enough for a swim if you're not too picky.
It may be windy any day of the year, so if you bring a hat, preferrably bring one that won't easily blow away.
When to go
Tourist services are active year-round.
During summer it'll be hotter and less risk of rainfall, but there will be much more tourists. The grass is often scorched up and dry at summer, and green at winter, which might make a difference from a photographer's perspective.
The peak of the high season is the two first weeks of February during the Tapati Rapa Nui festival. This is a great opportunity to see the different aspects of the Rapa Nui culture, but to make sure you'll find a descent hotel it'd be a good idea to book at least six months before arrival.
Exploring
To make the most out of your visit to this unique island, most people prefer to do at least two days of touring with a private guide to not miss all the history, legends and stories behind the remnants of the unique Rapa Nui civilization. Taking on the two classical highlights vehicle tours you will discover all the main essential sites of the island.
If you are only in it for the photography and want to explore on your own, as long as you stay on the trails and don't step on the monuments you'll be fine. There are several car rental companies in the town of Hanga Roa, but if you are visiting Easter Island at the peak of the high season (February) you may have to book a vehicle before you arrive. Oceanic Rent-A-Car is a common alternative. View the section of places to visit to plan your trip.
If you enjoy walking in nature, a hike would be a nice addition. Common hikes are:
Terevaka
Poike
North coast
It's possible to do the Terevaka hike on your own, but for the north coast and Poike hike it would be a shame to miss all the hidden unique archaeology and caves for not being accompanied by a guide.
Economy
Being part of Chile, Chilean pesos (CLP) is the official currency, but USD are also accepted everywhere at Easter Island. Be aware though, because the shops may have different exchange rates and sometimes it may be better to pay directly in pesos. 1 USD is around 500 CLP, but do check the current exchange rate to be aware of any recent changes.
There are three ATM machines at Easter Island; at the airport (opens two hours before plane arrives and closes when plane leaves) and at the banks Banco Santander and Banco Estado. The ATM machines at the banks are open 24/7. The one at Banco Santander usually works best with foreign credit cards. Both banks are located by the coast, below the central market.
Sometimes it happens that the ATM machines go out of service. If you want to be on the safe side you could bring some money in cash, but most bigger restaurants and shops accept credit cards nowadays, so you should be fine without cash for a day or two anyway.
Since everything has to be flied or shipped in, Easter Island is an expensive travel destination - often several times more costy than the rest of Chile. If you are staying in a cabin or a hostal you may have access to a kitchen. In that case, if you will pass by Santiago and will be staying for a week or more, it might be a good idea to do as the locals; fill up your remaining kilos of your suitcases with meat etc.
Getting around in town
The only town at Easter Island is called Hanga Roa. The main street is called Atamu Tekena, along which you'll find many restaurants and shops. The crossing street Te Pito o te Henua with the church at the top is also quite busy. The heart of the center is the market. Because of the small size of the town you can often walk to where you are going, but you may also take a taxi to any part of Hanga Roa for a few dollars.
Water system
The tap water of Easter Island is clean and is fine to drink unless you have a stomach that's unusually sensitive to high mineral content. It has a slight smell of clorine and a somewhat salty taste, though the water will taste better if you fill up a bottle and cool it down in the refridgerator.
Water pipes are quite thin and they are not designed to handle toilet paper. There should be a trash can in the bathrooms where you can throw your toilet paper.
Electricity
The power is of 220 V. The plug is similar to the European with two circular metal pins, but the pins are slightly smaller. Sometimes the European devices fit and sometimes they don't. If your device doesn't you may buy a simple connection converter at the central internet café Hare PC or the iron store Kanina close to the airport.
Shopping
Locally grown vegetables can be found by the central market in the morning. Other than that, groceries are usually flewn or shipped in from Santiago and sold in the numerous shops in town.
Souvenirs are sold in many of the small shops as well as at the different sites around the island, but the best selection (and often best prices too) is found at the central market.
Tourist information office
The Chilean tourist information organization called SERNATUR has an office just by the ocean below the town center, at the other side of the road from the resturant Pea. They will help you out with any question or concern you may have.
Language
Spanish is the official language of Easter Island. Rapa Nui is the native language, but only the elders would prefer this language to Spanish. English is spoken mainly among those who work directly with the tourists. At the more economic accomodations they often have limited English knowledge.
Top 5 Easter Island travel tips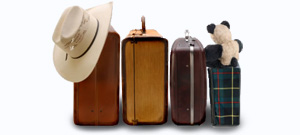 Travel check list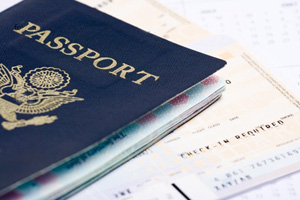 Renew passport if necessary.
Make sure credit card is open to abroad use.
Check luggage weight/number of items allowed by the airlines beforehand.
Label your bags with your name, address, and contact number.
Check-in online with airline to get a seat that you want, as well as to double check flight times.
Make sure you keep your travel documents and passport safe and accessible to you at ALL times while flying/transiting. You should keep them in your carry-on bag and not the bag you check in with the airlines.
Try to book your luggage directly to Easter Island. The airport is called Mataveri and has code IPC.
Reciprocity fee
Chile charges some nationalities a reciprocity fee when entering Chile by air at the Santiago international airport. The affected nations and respective fees are as follows:
| Nation | Cost |
| --- | --- |
| Australia | 117 USD |
| Mexico | 23 USD |
This is for fees that Chileans have to pay the listed countries when entering, applying for visas or similar. The fee can be paid with credit card or cash. Affected nationalities will be given a passport stamp as a proof of payment. This stamp will be valid until the passport expires, with the exception of Australian citizens, for which it is good for only 90 days.
Getting to Easter Island
The great majority reach Easter Island by air, but there are other ways. Around 25 cruises per year reach this island, and even though they often leave the same day they arrive, it still makes out around 20% of the tourists that come here in a year. A tiny but adventurous fraction of the Easter Island tourists come on sail boats.
Flights to Easter Island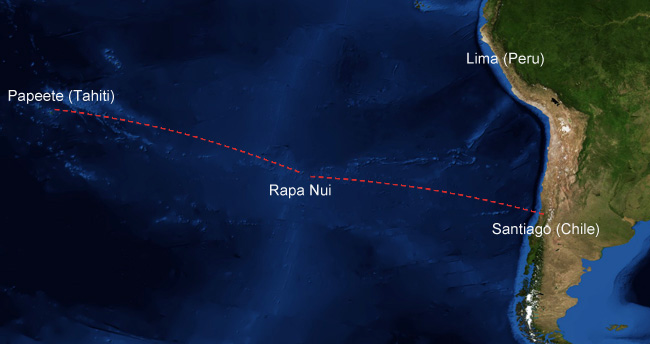 The only way to travel to Rapa Nui for the common traveler is by air. Airline travel traffic is exclusive to Latin Americas largest airline - LAN Airlines. They are part of the Oneworld Alliance and offer approximately one flight per day (during high season, Dec-Mar, sometimes two flights per day).
There are two flight connections to Rapa Nui:
Papeete (Tahiti)
Santiago (Chile)
From 2010 to 2013 there was also a flight connection to Lima (Peru), but this didn't end up as being lucrative in the end, so the route was cancelled.
Flights can be bought through any flight ticket sales service such as Travelocity or Orbitz, or directly through LAN Airlines.
Including Rapa Nui flight in a multi-destination fare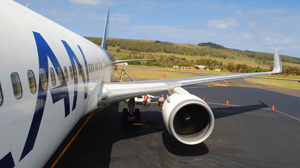 If you travel to many different places during the same trip, it might be a good idea to include your flight to Rapa Nui in a ticket with several flights, such as Circle Pacific or TAM South America Airpass.
Your flight may be part of a Round The World trip crossing the Pacific Ocean, when you travel to these destinations in either direction:
South America - Easter Island - Tahiti - New Zealand - Australia
Sailing to Easter Island
As with all South Pacific islands, one must have experience when sailing to Easter Island. It's open water and there are no overly protecting bays.
The Easter Island ocean floor is rocky and treacherous. Anchor off the coast and never enter any port without a local onboard that knows the ocean floor well. Accidents have happened many times before when optimistic sailers try to enter ports by themselves, which ends up in the hull getting torn apart by rocks, and a sudden and unhappy ending to their trip.
Weather at Easter Island is very spontaneous, and wind can change quickly. With this in mind, always make sure you anchor well, and always have your sail boat manned by at least one person.