Easter Island hiking
Breathe the Easter Island atmosphere by hiking! The trails are all completed in 1 day, but are of varying difficulty.
Hiking in nature
Rano Kau trail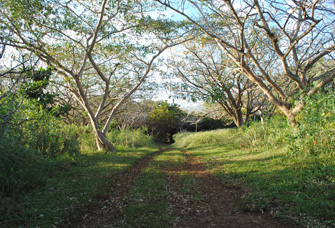 Walk up the volcano of Rano Kau, at the top of which Orongo is located. The trail starts in the area called Mataveri. Having the entrance to Conaf to your right the road will continue to the left. Go straight ahead instead, into the forest. The trail will be on your left side. There is only 1 trail and it is clearly visible.
You will walk through forests and meadows, constantly uphills, with panoramic views of the island. The trail ends at the top of the volcano Rano Kau.
You might arrange for someone to pick up, or you will simply have to walk down again, which is considerably faster and easier.
| | |
| --- | --- |
| Length: | 1.8 km |
| Elevation: | 230 m |
Terevaka trail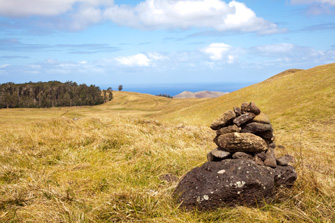 This trail leads to the top of the 500 m high Maunga Terevaka ("Terevaka hill") which is the highest point of Easter Island.
Get a ride along the road that leads to Anakena, until you reach the area of Vaitea. The dirt road that leads inland into the forest is where the hiking trail starts. The trail will lead you a few km towards the top and then vanish. Simply walk towards the highest spot to reach your destination.
When at the top, you will have a few different options:
Walk back to Vaitea where you came from (4.5 km).
Walk to Ahu Akivi (3.5 km). From here you might catch a ride back to the village.
Walk back to the village, passing Ahu Akivi (10 km).
| | |
| --- | --- |
| Length uphill: | 4.5 km |
| Length downhill (to Ahu Akivi): | 3.5 km |
| Length downhill (to town center): | 10 km |
| Elevation: | 325 m |
Hiking in archaeological sites
There are several exciting and interesting hikes that go through archaeological sites and caves, but to be able to find the majority of the points of interest you'd have to go with a guide. See our privately guided hikes to find out what's available. For the remoteness of these sites the ancient Rapa Nui people had to adapt to their environment which resulted in unique archaeology that can't be found anywhere else.